429 squadron photos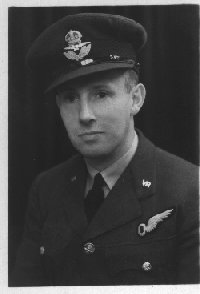 P/O Ian Stirton, Bomb Aimer of the first crew lost at 429 Sqn.
The pilot was F/O Ian Johnson (RNZAF), navigator Sgt. C. Risingham, WAG Sgt. A Dymick and tail gunner Sgt J. Stuart. This crew FTR'ed on the squadron's first mission, a mining op to Terschelling on 21/22 Jan 43. The squadron sent 3 crews out on this mission, one kite piloted by Sgt. Hanan reported that they were attacked by a flak ship, went around for a 2nd pass over the target and were not able to locate the target. They returned with their "vegetables". The crew of Sgt. Pentony completed the trip successfully. They were able to clearly discerne the coastline and planted the vegetables as ordered. Sadly, the squadron suffered its' first casualties on this trip when Sgt. Johnson and his crew failed to return. Their aircraft was shot down by Kreigsmarine Flak and crashed at 1836 on 21 January 1943 into the Waddenzee off Roptazijl, Netherlands. The official dates of death for all 5 crew members is 22 January 1943. No one knew, at the time, what time the crew went down or how they were lost. The Operational Records Book commented that "no report was received of this aircraft after it left base. It was carrying two 1500 lb. vegetables." Their Wimpy, BK432, AL-S, was recovered twenty years later when part of the Zuider Zee was drained.
Photo courtesy of Gillian (Stirton) Wason, P/O Ian Stirton's daughter

This is a photo of 429 Sqn taken sometime in the summer of 1943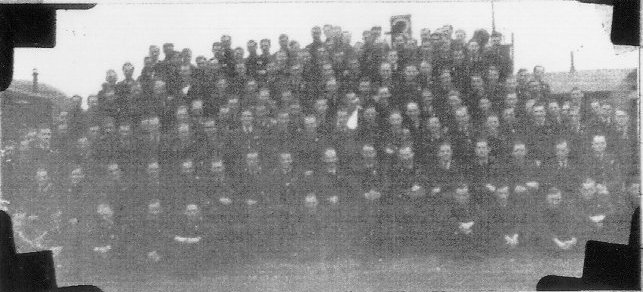 Obviously an impromtu sqn photo taken in May/June 1943. The faces are fuzzy but one of them looks like my Uncle F/SgT John Kopchuk. (He had white hair and one of the faces appears to have white hair).
I would be interested in finding the original of this photo.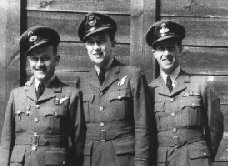 Left to right: P/O Spence (N), F/O Follows, P/O "Frenchy" deBussac. "Frenchy" was one of the 3 Muskateers on 429. DeBussac's crew was one of the first 3 crews posted on the squadron. This photo taken in June 1943 is unique in that P/O Spence is wearing a Navigator's wing rather than an Observer wing like Follows. I do not know of anyone that was wearing an "N" wing so early in 43. Note the 30 op crush on Follows, peak cap. Sadly these three FTR'ed from Krefeld along with the rest of their crew, F/Sgt Coe (WAG) and Sgt Palmatier (AG), on 21/22 June 43, the night 429 lost 4 crews in one op.
Photo courtesy of Margarite Wapple, sister of "Frenchy" deBussac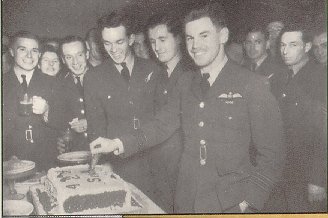 W/C Pattison DFC probably on the occasion of 429 sqn's 1st birthday on 1 Nov 43. I don't know how old he is in this photo, at this time he was on his second tour and already earned the DFC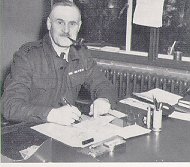 F/L C.R. Higgens, an adjutant of 429 Squadron. Like many staff positions during the war. F/L Higgens was a WWI veteran.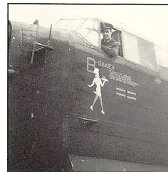 Barney Rawson in Wellington III, BK162, B for Baker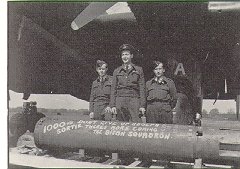 1,000 Sortie of 429 sqn.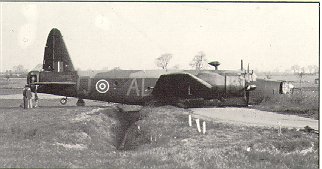 Wellington X, HE636, Q for Queen ditched after Duisburg

Wellington X, JA114, A for Apple at dispersal point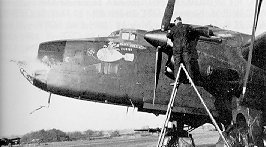 Halifax Mk.II, 'Easy does it,' being inspected on 22 Nov 43 at Leeming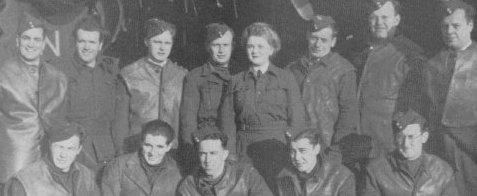 A photo of 429 sqn ground crw and HQ staff taken sometime in 1943. I do not have the names of anyone in this photo.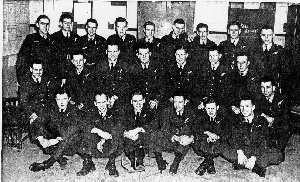 The Squadron Navigators, taken at 1000 hrs 01 Jan 45. Can you tell by the happy expressions on their face. Bill Morison the Nav Leader made them do it!
Back row L to R: Denny Fallon, Gene Duret, Jack Box, Charlie Jones, Reg Seale, Vince Fleming, Lorne Roberts, Jim Schollar, Steve Zerebersky
Middle row L to R: Solly Sollanych, Rae MacLeod, Gil Gillelan, Tom Grandy, Stan Price, Bob Thorne, Frank Millar Joe Loftus
Front row L to R: Gerry Ullet, Percy Codd, Jasper Still, Bill Morison (Nav Leader for Sqn), Ron Renault, Rog Bourque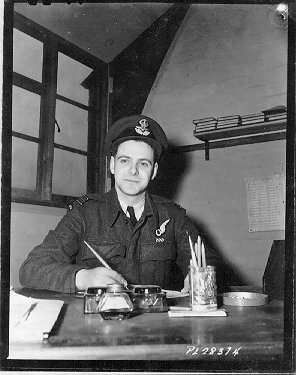 S/L Jerry Bell, DFC of 429 Sqn is the first navigator to command a flight in the Bison Sqn and in 6 Group. He had flown one tour already and a second with 17 trips.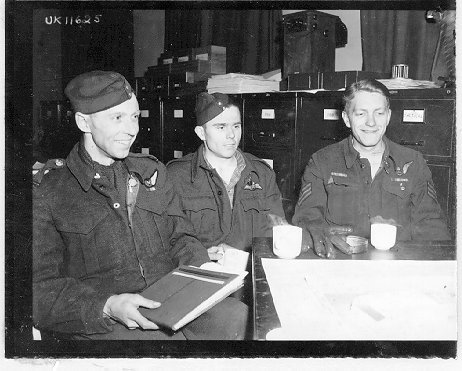 Making it difficult for reinforcements and supplies to be rushed to the invasion front by the Germans are these three members of the RCAF Bomber Group's "Bison" Squadron. They have just returned from bombing an important rail junction and are being interrogated by their station intelligence officers. L to R: F/L D.W. "Bill" Morison, a navigator who has just logged his 24th trip, P/O Bill Byers, pilot with 26 trips and Sgt. C.W. "Bud" Holdgate, mid-upper gunner with 24 trips.
P/O Bill Byers had a twin brother, F/Sgt G.J. Byers, pilot also with 429 sqn, who was killed on his 2nd mission to Dusseldorf on 3/4 Nov 43.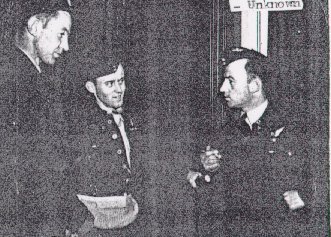 L to R: Duncan McNaughton, Dobson, Unknown
Duncan McNaughton won a gold medal winner in the high jump at the 1932 Olympic Games in Los Angeles. Duncan completed his tour with 429 sqn and completed a second tour with Path Finder Force. He had earned a DFC and bar by the time he had finished his tours.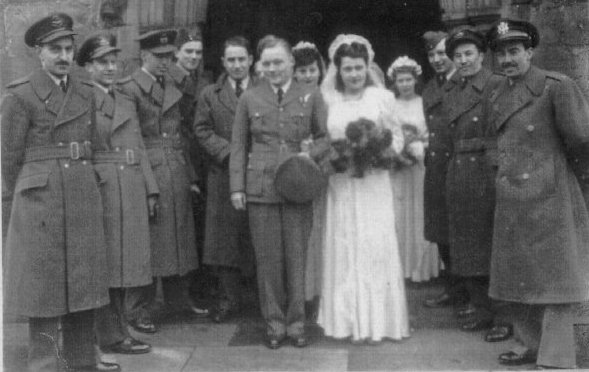 A 429 sqn wedding, sometime in 1943. I have no names for this photos.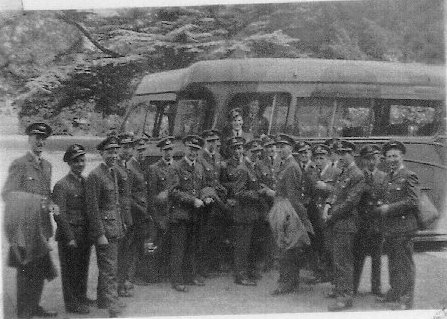 A bunch of the boys from 429 sqn. Looks like they are off on a road trip somewhere.
Again, no details and no names.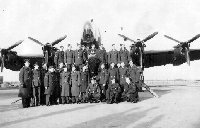 A group of 429 sqn personnel in from of the Bison head which was presented to the sqn by the Cdn National Railways. The Bison head came from Wainwright, Alberta. The Halifax in the background is N of Nan.
Sources: Personal collections, RCAF Squadrons, The Royal Canadian Air Force at War 1939-1945, East Moor Memorial