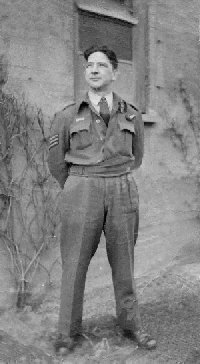 An Unsung Hero: Sgt. "Pat" Platt
He was posted into 429 Sqn on 01 Apr 44 with the following aircrew:
R119509 WO2 MJ Brisban (Pilot)
1808077 Sgt FP Platt (F/E)
Lieut. FM McRoberts (USA) O886295 (WO/AG)
J25025 F/O TA Wilson (Nav)
R159962 Sgt SL Norejko (B/A)
R199371 Sgt JC Copeland (MUG)
1869757 Sgt WEH Barty (Rear AG)
They arrived from 61 Base (which is probably where they did OTU).
Sgt. Brisban did his 1st 2nd dickie with Mitchell and his crew on the 18/19 Apr 44 to LeBourget. He did his 2nd , 2nd Dickie with Atkins and his crew on 22/23 Apr 44 to Dusseldorf. On this trip they dropped their bombs 5 miles from the target due to loss of altitude due to damage sustained when attacked by unknown enemy aircraft. This probably shook Brisban up a bit.
Sgt. Brisban and his crew did their first op to Essen on 26/27 Apr 44 in Halifax III, LW684. One this trip they had another crew member as the Under Gunner, Bluethner. They took off at 23.17 and landed at 03.58. Their intelligence debrief records:
Attacked primary at 0143 hours from 21,000 ft. 3/10th cloud, tops at 21,000 ft. Visibility good. Bombed on centre of cluster of red T.I.'s The markers were well concentrated and fires were seen to be starting around them. If the markers were accurate this should be a successful raid. Aircraft was coned by searchlights after bombing but we evaded successfully. Bomb load 64 x 30 lb Inc., 570 x 4 lb. Inc., 60 x 4 lb X type Inc.
Here is where it gets interesting. Sgt. Brisban was posted out of 429 Sqn on 18 May 44 to 63 Base. The rest of the crew:
Wilson
McRoberts
Copeland
Norejko
Bartly
Platt
were posted out to 61 Base on 20 Jun 44. This is odd. It appears that Brisban went LMF and didn't want to fly anymore. Because on the 4 Aug 44 posted back to 429 Sqn are:
J17637 F/O JM Prentice (Pilot)
0-886295 Lt FM McRoberts (USA) (WO/AG)
J25025 F/O TA Wilson (Nav)
R159962 F/Sgt SL Norejko (B/A)
R199371 F/Sgt JC Copeland (A/G)
1808077 Sgt FP Platt (RAF) (F/E)
1569757 Sgt WEH Barty (RAF) (A/G)
There was definately a problem with Sgt. Brisban, he never returns to 429 Sqn.
Here is an entry from the 429 Sqn ORB about Prentice and crew when they had to ditch in the Channel on 17 Sep 44:
The Squadron was required for operations today and fifteen aircraft were ordered.
The crews were briefed at 0330 hours for a daylight attack on Boulogne. All took off. Weather over the target was clear with good visibility. The early T.I.'s were evidently short as the Master Bomber was heard cancelling them as our aircraft made landfall. Most crews heard the Master Bomber clearly. There was a red marker on the aiming point but there was a tendency to bomb slightly short and to starboard of this. However no serious over or undershooting occurred. As the attack developed accuracy of the markings was obscured by dust and smoke but a good bombing concentration was maintained. Some Heavy flak was observed off Cap Gris Nez.
Two aircraft returned without attaching and brought their bombs back. Aircraft "K" piloted by F/O J.M. Prentice (Can J17637) was hit by flak shortly after leaving the target and both starboard engines were damaged and unserviceable. Fire broke out and the crew was forced to abandon the aircraft at 5038 0127E. Aircraft "R" was returning at the time and "K" was seen on fire. F/O M. Lanin (Can J85825) the pilot of "R" was able to obtain a fix which was transmitted at 0930 hours.
He remained on the scene until two Spitfires and a Walrous aircraft arrived. The crew was taken aboard the Walrous and then transferred to a high speed launch which arrived soon after. The crew was then taken to New Haven. All were uninjured except the rear gunner whose legs were wrenched when leaving his aircraft. F/O Lanin deserves great praise for his part in effecting the rescue of this crew. The remainder of our aircraft returned safely to base.
A letter to his brother reads:
"On Sunday the 17th we raided a well held channel port, and made two runs on the target without dropping the shit, we were turning away when Jerry got in four direct hits on the Port side. Engine and tanks 1 & 3 Well anyway she (wasn't) on fire, I (feathored) the Port (wings), but she came (unfeathered) again and ran away. The prop came off and shattered the Port (outs) and the cabin. We could not jettison the load as the circuits were all shot to hell. The wing bomb bays contained two 500 lbs of bombs and these were smothered in flying juice, then the Port undercarriage came down, and the wing was just about to blow, so we abdicated pronto. Unfortunately we were by this time about eight miles out to sea. So Patty had a swim for about two and a half hours, one of our kids saw us come out and got a fix on us, air sea rescue types came out with an old Walrus and picked us up, and we finished the day on a H.S.L. then to Newhaven. Well that's a short story of the do."
The following is information provided by Frank Haslam which is the 207 Sqn's entry of the disaster:
This was 207 Squadron's first mission of November 1944 and it quickly turned into a disaster before the aircraft had even left the ground. Twenty aircraft were detailed for a raid on Homberg, incuding PD290, captained by F/O A T Loveless on his first 'solo' mission. Taking off from the short runway 16/34, he swung violently to port, careered across the grass, demolished a Nissen Hut and crashed into a visiting Halifax of 429 Squadron which was parked on a dispersal.
The bombs aboard PD290 exploded, destroying two Halifaxes and damaging another. In addition, the 44 Squadron briefing room and crew room and small buildings around the the control tower were badly damaged and it was fortunate that the tower itself was not badly affected. One of the Halifax crew members tried to move his aircraft to safety but was injured and died later. Luckily F/O Loveless and his crew were not injured. Lancaster NN274 was just becoming airborne when the explosion occurred, and its wingtip almost touched the runway, but Flg Off Downing, on his first operation, managed to regain control. Only thirteen of the squadron's Lancasters were able to carry out the mission, and all returned to land on a runway which had been cleared during their absence.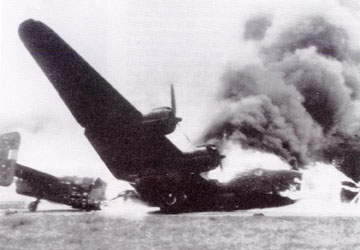 One of 429 Sqn's hally's burning at Spilsbly.
The following is the 429 ORB entry about the incident which P/O Platt was mortally wounded:
The Squadron suffered a heavy loss of aircraft today at Spilsby when a Spilsby Lancaster swung and crashed into one of our aircraft which was standing on a dipersal there. Several of our aircraft had landed at Spilsby on October 30th as the result of diversion orders following an operation. The Lancaster was loaded with bombs which exploded and wrecked both aircraft completely. The blast and burning debris also caused a second Squadron Halifax to catch fire and it, too, was completely destroyed. A third Halifax was also severely damaged by blast and has subsequantly been written off.
When the crash occurred, P/O F.P. Platt (RAF) (185771) a Squadron flight engineer, immediately ran to the third Halifax and made an attempt to start the engines in order the move the aircraft away from the other burning aircraft. The C.T.O. at Spilsby also entered the Halifax to assist him. They succeeded in starting one engine which resulted in the aircraft swinging around facing toward the burning aircraft. When the explosion occurred the nose of the Halifax was blown in and P/O Platt was severely injured. He was then removed from the Halifax, placed in an ambulance and rushed to Raceby Hospital. However, he died before the ambulance arrived at Raceby.
His brave attempt to remove the aircraft from danger had been highly commended by the Station Commander at Spilsby. The three squadron aircraft lost at Spilsby were "P" – NP954, "Z" – MZ424 and "G" – MZ824 which was the aircraft in which P/O Platt was fatally injured.
It turns out that P/O Platt was recommended for a George Cross, however he was only gazetted for a Mention in Despatches. The citation gazetted on June 14, 1945 read as follows:
PLATT, P/O Frederick Patrick (RAF 185771) - Mention in Despatches - No.429 Squadron - awarded as per London Gazette dated 14 June 1945. DHist file 181.009 D.2610 (RG.24 Vol.20627) has recommendation dated 23 November 1944 for a posthumous George Cross. Emanated from No.429 Squadron (Leeming); Flight Engineer.
On November 1st, 1944, Pilot Officer Platt was supervising the servicing of a Halifax aircraft of which he was flight engineer. A Lancaster with full bomb load of fourteen 1,000-pound bombs swung on take-off and crashed into an adjoining aircraft setting both aeroplanes on fire. Pilot Officer Platt, noting that his aircraft was in danger of being destroyed when the bombs exploded, rushed into the cockpit and with the assistance of the Chief Technical Officer of the station attempted to start the engines so that he might taxi the aircraft to safety. However, two, 1,000-pound bombs of the burning Lancaster exploded and both officers vacated the aircraft. Pilot Officer Platt then decided to make another attempt and having instructed some senior Non-Commissioned Officers in the external "doping" procedure for starting the engines again entered the aircraft accompanied by the Chief technical Officer. They had succeeded in starting one engine when there was a further explosion of seven to ten of the Lancaster's 1,000-pound bombs. The nose of Pilot Officer Platt's aircraft was blown in and Pilot Officer Platt was fatally injured. Pilot Officer Platt displayed courage of a very high order in the face of great danger and lost his life in an attempt to save an aircraft from destruction.
It is considered that this display of heroism and devotion to duty fully merits the posthumous award of the George Cross.
Photos and information provided by Karen Garfield, Frank Haslam, Don Gillis, Hugh Halliday and 429 Sqn ORB