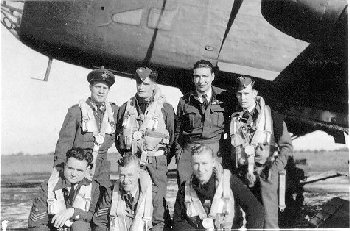 Mitchell's crew FTR

This is the crew that Ernie Nelson belonged to. 
L to R back row: Jack Johnson(N), 
Clarence Wertz(MUG), Mitchell (P), unknown WAG.
Front row: Robert McEachern(BA), Harris (FE), Ernie Nelson(AG). 
There regular WAG Russ Almas was sick on the day this photo was taken. 
Ernie does not recall the name of th WAG in this photo. 
The crew were shot down on 21 Nov 44. 
The only survivors of the crew were Ernie and Mitchell.