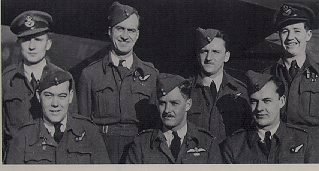 Nelly's crew

L to R backrow: Warne (FE), Hodgson (AG), Giroux (WOP), McNair (MUG) 
Frontrow: Glass (BA), L.G. Neilly (P), R.M. Ferguson (N). 
Nelly and his crew successfully completed a tour and went on to Path Finder Force where they finished a second tour. 
Nelly had his wings pinned on him by Billy Bishop! A famous WWI Cdn flying ace with 72 kills.