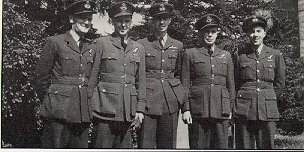 Rawson's crew

L to R: Jim Smith (WAG), Jack Kerr (N), Barney Rawson (P), Ian McIntosh (BA), Jim Jakeman (AG) 
Handsome devils. One of them is getting married that day. Jakeman and McIntosh married sisters. Jakeman's wife was a WAAF at East Moor with 429 Sqn as well. 
This is one of the few crews to finish a tour in Wellingtons.