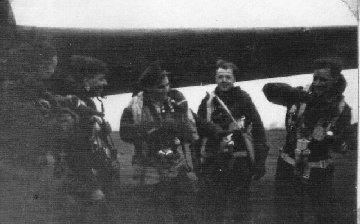 Conroy crew

L to R Burns, Densmore, Knott, Godden, Conroy 
Knott FTR with another crew on a raid to Frankfurt 10/11 Apr 43. 
On 05/06 Mar 43 Conroy took a crew to Essen and crashed 
their Wellington on return. One of the crew members, Bell, was killed. 
Burns and Densmore were with Conroy on that trip and they were also injured. 
Then on a raid to Dusseldorf on 11/12 June 43 Conroy and crew were shot down again. 
All were killed except Conroy who successfully evaded. 
Burns, Densmore, Nelson and Leitch were also killed on this trip with Conroy. 
 
On 24/25 Mar 44 Conroy's luck with the Reaper ran out when his plane was shot down over Berlin. The entire crew made it out and Conroy died.