For all the Canadians order your favourite books, video, cd's from Chapters. Click on the banner above to go to Chapters and order what you like! They have some excellent books on Bomber Command and the airwar! If you click on the book covers below you will go to the Chapters site.


For all the Americans you can choose Barnes & Noble or Amazon.com to purchase the books.
My Favourite Books
For any of these books click on the cover or link to order it from Chapters. Prices are in Canadian dollars.
The Bomber Command Handbook 1939-1945 - Fabulous reference book on Bomber Command. Excellent detail.

Thunderbirds at War - Basically a text version of 426 Sqn's Operational Records Book. Excellent reference material
Thunderbirds At War Diary Of Bomber Squadron
Raiding the Reich - An great book covering Bomber Commands and the USAAF's role in the Strategic Bomber Offensive

The Other Battle - An excellent book detailing both sides of the Bomber Offensive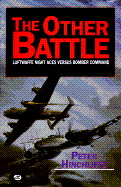 The Bomber Command War Diaries - A must for your library if you are doing any serious research work

The Bomber Command War Diaries:An Operational Reference Book, 1939-1945

RAF Bomber Command Losses

- Another must reference book which details in chronological order by opertional each aircraft and crew lost on a raid. Each volume is one year of the war.

The Crucible of War, 1939-1945 - This is the Official History of the RCAF during WWII. Excellent reference material

The Crucible of War, 1939-1945, Vol. 3:The Official History of the Royal Canadian Air Force

The Royal Canadian Air Force at War 1939-1945

- Anyone interested in the RCAF has to have this one, it's a must!

Reap the Whirlwind

- A excellent history of 6 Group during WWII